5 Ways To Keep Your Bathroom Renovation Under Control
5 ways to keep your bathroom renovation under budget is the most essential tip you will come to realise, when you know renovations doesn't have to be costly. It can be created through just noticing simple aspects of how to minimize on spending on unnecessary items, that isn't adding any value to your home.
We all have a dream of our luxurious dream bathroom dream of the luxurious bathrooms filling but not many of us have the means to afford such elegance.
So here are 5 ways to keep your bathroom renovation under less bucks without losing style.
The Tiles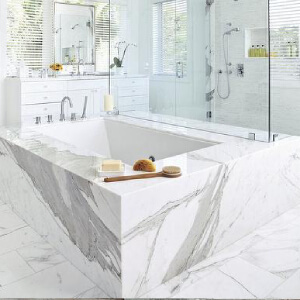 Tiles covers the most area in a bathroom and can be quite expensive while thinking about its renovation. In Australia ,there are tiles that cost $20.00 per square meter up to over $500.00 square meter, and there are products like natural stone such as marble and limestone which creates a sophisticated look, but the question you need to ask is does it really add value to your lifestyle or is it an unnecessary spending?
There are many products that's more durable for long run and for a much more affordable price range. The other way you can your cost is to lesser the space of the tile fittings, your bathroom doesn't have to be top to bottom titles, just the beneath surface can be tiles and other can be just a normal wall with your favourite case cabinet hanging or a cute little painting. There is a lot of decorating option for your bathroom is to reduce the number of tiles.
Tapware
Tapware have its revolutionary style occasionally and their it always the 'it' trend when it comes to tapware but that tapware very much in-demand in the market comes with its own price. Tapware is one of those ever-changing fixtures, depending on the trend of the times. Now, black tapware and rose-gold tapware are famous, but it also comes at a price. If that cost isn't one you want to take on board, there's nothing wrong with sticking to chrome. Chrome tapware is classic and timeless, and it will look as good in ten years' time as it does today.
Another way to keep tapware less expensive is to buy from bulk providers such as Bunnings Warehouse,they have high quality products and all different styles you are interested in. Also consider the style of taps you can afford. Mixer taps often end up more cost effective than separate tap sets.
Off the shelf vanities
It isn't necessary that to have good vanity shelf designs you need to have big bucks; a good bathroom design can allow for an off-the-shelf vanity ranging from range that would suit small bathroom to large bathroom decors. The range of vanities also available is huge. You can choose from draws, cupboards, cabinets and mirror designs that would suit your house aesthetic perfectly. The main way to keep the cost down is to choose a white vanity, as they are easily available and is cost effective than option such as timber.
Vanity Bowls
Similarly, Vanity bowls can stay as classic as the tapware's, as you can spend unnecessarily on-trend bowls like black or terracotta, so just sticking to the normal white basin will give you the timeless beauty look Again, this is an area where you can fork out hundreds of dollars unnecessarily. On-trend bowls such as black or terracotta will wipe out a fair chunk of your budget, so why not stick to white? Choosing from shapes to sizes from modern oval and round bowls, to the more traditional square or rectangular look. Checking out bulk suppliers can save you tons in this area.
The Bath
The Bath is a option everyone is trying to remove altogether to opt for something larger or double shower. If you want a bath, then you can go for the option. The shower over bath is an inexpensive and practical solution for smaller bathrooms.
If your bath is still up in good running and you wish to keep it, it doesn't mean you have to replace it. It is amazing how a new tapware, basins or a cupboard add ins can uplift the whole scenario of your bathroom.
If you do decide to replace your bath, again, keep in mind bulk suppliers who will save you hundreds compared to sourcing from specialist bathroom outlets. Still Stones is one of the most reliable source to get cheap and affordable bathroom renovations and suppliers in Melbourne and can supply top-quality stones from a variety of brands, including Pavestone, Smartone, Quantum Quartz , RHF Quartz stone and YDL Stone. Additionally, they also supply RHF Quarts stone in our showroom. Make your way to their showroom in Melbourne today and check out the different stones they supply at 22 Eileen Road, Clayton South.
If you have any questions or want to schedule a consultation with experts, you can contact them on 0421 359 996 to schedule an appointment. Alternatively, you're welcome to visit their showroom and directly start a conversation with their friendly and knowledgeable employees.