Premium Quality Kitchen Benchtops Supplier in Melbourne
Your kitchen is one of the most used spaces in your home and goes through a lot of heat and steam. So, when you plan to build a new kitchen or renovate the existing one, it's important to ensure that it is functional, easy to maintain, and durable. The kitchen benchtop is where most of the food preparation takes place.
Along with being functional, they add style to your space. This is because they come in various colours and textures to suit any taste. If you want the best kitchen benchtops in Melbourne for your kitchen at a great price, check out our collection at Still Stone.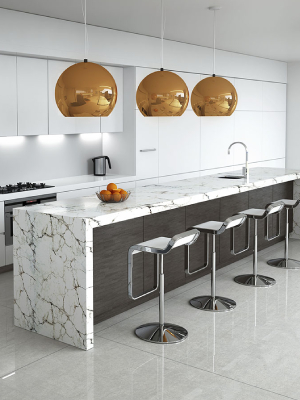 We are here to provide you with high-quality kitchen benchtops for your home at a competitive price. Whether you are looking for an engineered stone, Caesarstone, or Quartzite benchtop in Melbourne, we can help! With us, find a benchtop that fits your budget, and enhances the décor of your kitchen. Let our professionals install the perfect benchtop for you. You don't have to compromise on quality if looking for an affordable benchtop, like laminate benchtops. We have many design options, no matter which stone material you choose.
Different Kitchen Benchtop Options Available With Us
When picking out the perfect kitchen benchtop, many different options are available on the market. It can be overwhelming trying to decide which is right for you. However, it is vital to consider all aspects before making a decision. The type of material, the colour and finish, and the price are all important factors to remember. Depending on your budget and style preferences, you can choose from a variety of materials.
Do you want to explore the options yourself? Check us out! At Still Stone, our design options are vast and we also have different materials of natural stone kitchen benchtops that you can choose from. Some of them include the following:
Engineered stone benchtops
Each benchtop has its own characteristics that serve different functions. For example, a granite benchtop might be expensive, but there are a lot of amazing designs and colour options in it. Moreover, it is easy to maintain and has an enduring surface. Another option is, you can use porcelain benchtops if you want something more affordable and durable. They are resistant to scratches and stains, making your benchtop look like new for a long time.
What are the Advantages of Buying Stone Kitchen Benchtops in Melbourne?
If you are considering a kitchen renovation; one of the choices you will need to make is what material to use for your new benchtop. Stone benchtops are a popular option and there are several reasons why they might be the right choice for your kitchen.
Here are some advantages of choosing the best stone kitchen benchtops:
Durable: Stone kitchen benchtops are extremely long-lasting and can withstand most kinds of wear and tear. It is also heat-resistant, which makes it an ideal selection for areas that handles a lot of cooking activity for busy households.

Easy maintenance: Stone benchtops are also very easy to clean. All you need is a wet cloth and some mild detergent – there's no need for harsh chemicals or scrubbing.

Premium-touch: Stone for kitchen benchtops look absolutely stunning! They can add a real sense of luxury and sophistication to your home.

Versatility: Stone benchtops are very adaptable – they can be used in both traditional and contemporary backdrops. Whether you are planning a major kitchen renovation or simply updating your work surfaces, stone is always a great option.
How to Choose the Perfect Kitchen Benchtop?
Choosing the perfect kitchen benchtop can take a lot of effort and time. There are so many different materials and styles to choose from. With a little research, you can easily find the perfect benchtop to complement your kitchen.
Here are a few tips to help you make your choice:
Consider your budget: Benchtops can range in price from relatively affordable laminate options to more expensive stone or marble. Determine how much you are ready to spend on your benchtop before beginning your search.

Assess the style of your kitchen: If you have a modern kitchen with clean lines, you may want to opt for a stylish, minimalist benchtop, such as a black stone kitchen benchtop. On the other hand, for a traditional style kitchen, benchtops with more ornate details are more suitable.

Think of the material: Laminate is often the most affordable option, but it is not as durable as stone or marble. Despite being expensive, stone and marble can last longer and resist stains or scratches better than laminate.

Consider the maintenance: Some materials, like granite, require regular sealing and polishing in order to maintain their appearance. Other materials, like quartz, are low-maintenance and only require occasional cleaning with soap and water.
Why Choose Still Stone for Marble Kitchen Benchtops in Melbourne?
Still Stone is one of the most trusted names when it comes to granite kitchen benchtops in Melbourne. With years of experience, we have been providing homeowners and designers with stylish and durable benchtops. Our professionals only use the highest quality materials, so you can rest assured that your benchtop will last for many years to come.
We showcase a wide range of colours and styles, so be assured that you can find a lot of options to choose from. Our team of experts will work with you to design a custom plan that fits your needs and products that are a perfect match for your kitchen. We also offer a variety of edge profiles to give your benchtop a unique look.
What else makes us stand out in the market? Here are a few reasons to choose us for marble kitchen benchtops:
Experienced professionals
If you are looking for kitchen sinks with stone benchtops or want to know about stone kitchen benchtop's cost, then contact us. Feel free to call us on 0421 359 996 or email us at stillstone3169@hotmail.com.
FAQs
The cost of your kitchen benchtop will depend on several factors, such as the size, material, finish, and installation required. We suggest talking to our experts, who can provide tailored advice and quotes.
When it comes to picking the right kitchen benchtop, you want to consider a few factors, such as budget, durability, maintenance, and design. Granite is the most popular choice because of its natural beauty and durability, while quartz is also a great option due to its low maintenance requirements. Marble is also very popular but can be hard to maintain and is susceptible to staining. So, make sure you weigh up all your options before making a decision!