Buy Caesarstone Benchtop in Melbourne
An attractive Caesarstone kitchen benchtop is all you need to make a bold and glamorous statement. Caesarstone laden office or home spaces are designed to please visitors and users aesthetically. Caesarstone is an engineered quartz stone developed by Caesarstone Melbourne. Engineered Quartz Stones are widely popular in Melbourne over natural stones like granite and marble for a variety of reasons. They possess high strength, durability, and limitless versatility, allowing for a variety of hues, styles, and edging. Quartz is engineered and reconstituted to achieve a wide array of contemporary design features. Compared to natural stone and marble, it is more consistent without the need for constant on-going care and maintenance while also being more cost-effective.
The manufacturing process of Engineered Quartz Stone involves compaction by Vibro-compression vacuum process in which a crushed stone/resin mix is cast on a moving belt. The mixture of approximately 93% stone aggregates and 7% polyester resin by weight is heated and compressed under vacuum in a large press. Engineered quartz stone is then processed in basically the same manner as its natural counterpart.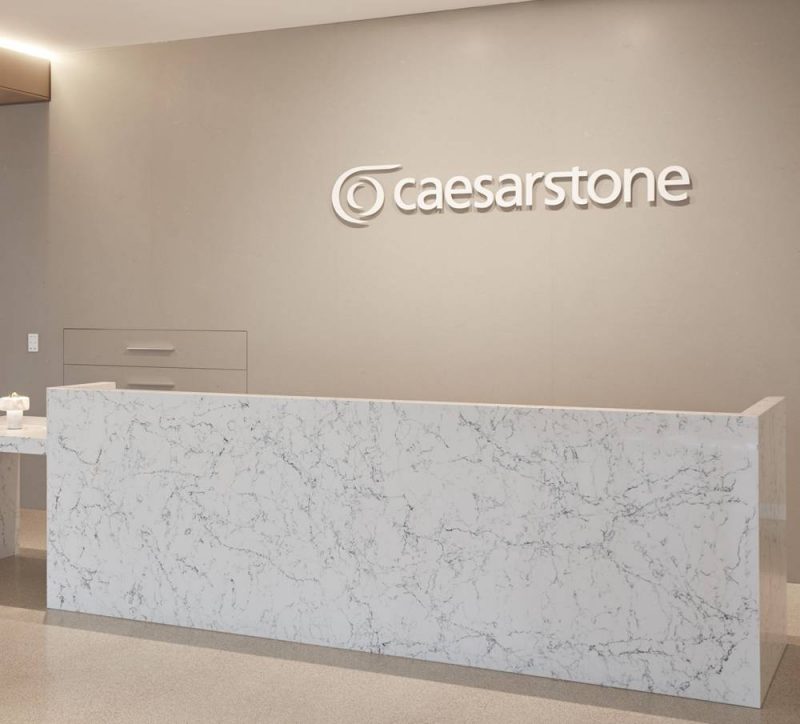 Why Use Caesarstone for Your Kitchen or Bathroom?
Used significantly for vertically positioned applications like in the case of shower wall panels
These can be used for bath surrounds, vanities, windowsills, and so on
Mould and mildew free materials, which makes it ideal for wet areas such as the kitchen or bathroom.
Possess high resistance to chips, stains, and scratches
Possess high resistance to acids and oils and are perfect for kitchen benchtops
Less maintenance cost because resealing is not needed
Bacteria-free countertops due to non-porous nature
Finest Quality Caesarstone in Melbourne from Still Stone
Still Stone gives you Caesarstone benchtops of supreme quality at attractive and affordable prices in Melbourne. We are dedicated to providing you with the most glamorous home or office spaces possible. We at Still Stone are fully integrated from start to finish, and our employees provide experienced services from material selections through field measure and layout to fabrication. Give us a call at (03) 9558 4466 to know more and we will be thrilled to help you in any way we can.