Quality Caesarstone Benchtop in Melbourne
Caesarstone is a quartz-based engineered stone manufactured by Caesarstone Ltd., an Israeli company, headquartered in Kibbutz Sdot Yam. The surfaces of these stones are made up of 90% quartz, one of the hardest minerals on Earth. This gives it strength and durability, making it resistant to scratches, staining, and chipping. Quartz is also a low-maintenance material as it does not require sealing or polishing like other natural stones, such as marble or granite.
The manufacturing of engineered quartz stone involves compaction by Vibro-compression vacuum process in which a crushed stone/resin mix is cast on a moving belt. Here, a mixture of approximately 93% stone aggregates and 7% polyester resin by weight is heated and compressed under a vacuum in a large press. Engineered quartz stone is then processed in basically the same manner as its natural counterpart.
Attractive Caesarstone kitchen benchtops are all you need to make a bold and glamorous statement. Caesarstone-laden office or home spaces are designed to please visitors aesthetically. Still Stone is a great choice to make this happen for your home.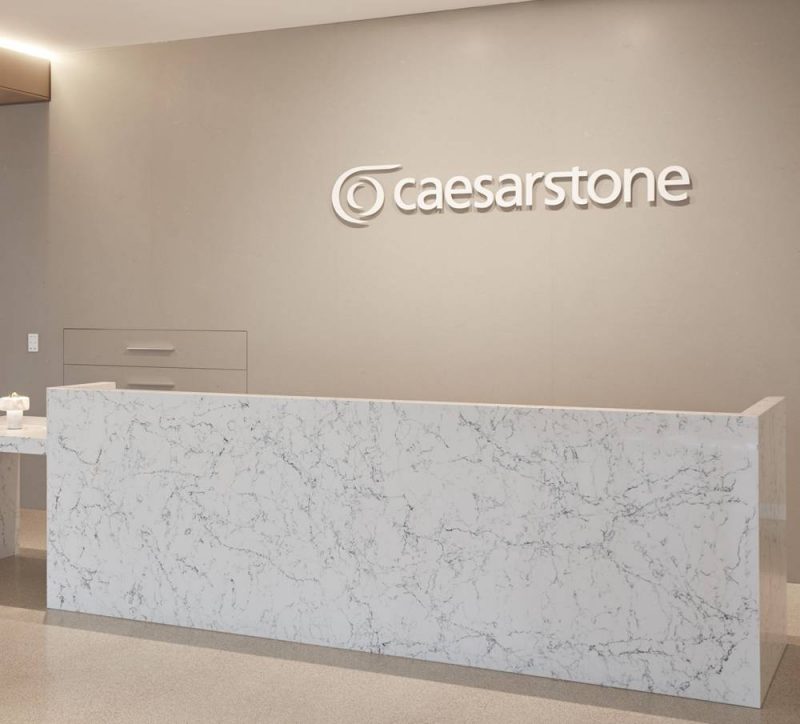 So, are you looking for a high-quality and durable benchtop for your kitchen or bathroom? We are a leading supplier of Caesarstone in Australia, with a wide range of colours and styles to choose from. Contact our experts to choose the best materials for your decor project.
Advantages of Using Caesarstone Benchtops
Caesarstone has been used in both residential and commercial applications for over two decades. It is an extremely popular choice for countertops, backsplashes, flooring, and wall cladding. Thanks to its exceptional strength and beauty, this material has become one of the most sought-after materials in the world.
Apart from that, there are many other benefits of white Caesarstonebenchtop; such as:
Excellent Durability: Since Caesarstone is made from quartz, it is extremely resistant to scratches, chipping, and staining. It is also heat resistant, so you can place hot pots and pans on it without fear of damaging the surface.

Low Maintenance: It requires little upkeep compared to other materials such as marble or granite. All you need to do is wipe it down with a wet piece of cloth and mild detergent when necessary.

Hygiene:Caesarstone is a non-porous material, which means it won't absorb spills or stains like other materials such as marble or granite. This makes it the ideal choice if you have young children at the home.

Wide range of Colours and Designs: There are many different colours and styles available in the Caesarstone range, so you are sure to find something that suits your preferences.

Affordable: Although it offers all these benefits, Caesarstone is actually very reasonably priced compared to other high-end materials including granite or marble.

Increases Value of Your Property: As quartz is such a high-quality material, choosing a Caesarstonebenchtop for your kitchen renovation will increase the value of your home. This is an investment that will pay off if you ever decide to sell your property.
How to Pick the Right Caesarstone for Your Kitchen Benchtops?
When you are planning a new kitchen or renovating an existing one, the most important decision you will make is what material to use for your benchtops. Even when there are so many options available in the market, Caesarstone is still a popular and reliable option for households in Melbourne.
Here are a few tips to help you pick the right Caesarstone concrete benchtop for your kitchen:
Consider your budget: Caesarstone comes in a range of prices, so it is important to consider how much you are willing to spend before making a decision.

Think about your style: It comes in a variety of colours and styles, such as organic white Caesarstonebenchtops and black Caesarstonebenchtops. So, you will surely find something that fits your taste.

Consider practicality:Caesarstone is extremely durable and easy to care for, making it the best option for busy families. It is also heat and scratch resistant, so it will stand up well to everyday use.

Choose the right thickness: Depending on how much counter space you need, you can choose from a variety of thicknesses ranging from 2cm to 20mm.

Get professional advice: Lastly, get professional advice from our experts, who know all about Caesarstone! At Still Stone, we can help you choose the perfect benchtop for your kitchen.
Tips for Maintaining Caesarstone Countertops
If you have finally decided to have Caesarstone countertops in your home, you have made a wise investment that will likely pay off for years to come!
When it comes to Caesarstone countertops, there are a few things you can do to keep them looking their best for a prolonged timespan. Here are the most effective tips for maintaining it:
Ensure regular cleaning: Just like any other surface in your home, countertops need to be kept clean. Wipe up spills when they happen and give them a good cleaning on a regular basis.

Be careful with heat:Caesarstone is heat resistant, but extreme changes in temperature can be a reason for cracking or other damage. Use hot pads or trivets on the countertops when placing hot pots or pans and also don't put anything directly from the freezer onto the surface.

Avoid harsh chemicals and abrasives: When cleaning your counters, avoid using harsh chemicals or abrasives that could scratch or damage the surface. Opt for mild, gentle cleaners made specifically for stone surfaces.

Use a cutting board: Although Caesarstone is scratch-resistant, it's not completely scratch-proof – especially if you are using sharp knives. To avoid damaging the countertop, always use a cutting board (preferably wooden or bamboo) when preparing food.

Get them professionally sealed: Professional sealing can help protect your counters from stains and other damage. This should be done every few years to maintain optimal protection.
Why Choose Still Stone for Caesarstone Kitchen Benchtops?
Still Stone is one of the most reliable suppliers of Caesarstonebenchtops in Melbourne. We source our products directly from the factory, so you can be certain about getting the best possible price. Whether you are after a sleek, modern, and stylish look or something more traditional, and rustic, we have a benchtop to suit your need. We offer an extensive range of colours and styles to choose from, so you can get the perfect match for your kitchen.
Are you still not sure why to pick us when looking for Caesarstonebenchtops in Melbourne? Here are a few reasons:
Unbeatable value for money
Wide range of colours and finishes

Excellent customer service
So, if you are looking for a beautiful and functional kitchen benchtop, Still Stone has some excellent options for you. When you buy from us, you know you are getting the best possible price on a product that will last for years to come!
For more details, feel free to call us on 0421 359 996 or email us at stillstone3169@hotmail.com.