Melbourne's wholesale Granite & Marble supplier with the best prices
Granite is a natural stone that is composed underground by heat and pressure. It is extremely durable and resistant to scratches as well as stains, making it a good pick for high-traffic areas like kitchens and bathrooms. Despite being a costlier choice than other countertops, it's a great investment. They are popularly used in various places, including homes, offices, hotels, etc. and are an ideal choice for kitchen countertops, bathroom vanities, and bar tops. Granite that looks like marble is made up of quartz, feldspar, and other minerals, which give it its signature flecks and patterns.
Since marble is very expensive due to its timelessness and sophistication, it needs proper upkeep. It can be difficult to maintain because of its porous surface that can easily absorb stains. Maintaining the look of a marble countertop, especially in a kitchen, can be really challenging as it would require a sealant before you can use it.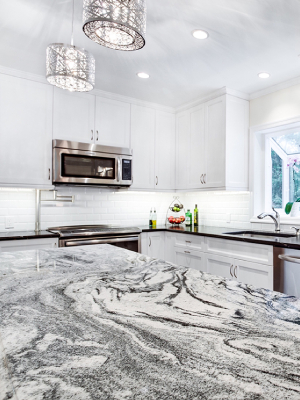 In contrast, granite is a much better alternative to marble, which is easy to maintain because you would just need soap and warm water to remove the stains on it. Moreover, this material is extremely durable and stylish too. So, if you plan to add elegance with a marble-style countertop, a granite marble countertop is the best option.
It is important to choose a reliable contractor who has experience in this field. Still Stone is a renowned name in the market when it comes to the best granite suppliers in Melbourne. We work with a team that has worked with granite marble stone for a long time and can provide you with exactly what you need from your kitchen space. They renovate your space according to your preferences and ensure it fits the description perfectly.
Granite vs Marble: Which One Should You Choose?
When it comes to picking out materials for your countertops, there are endless options you can go for. Two of the most popular choices are granite and marble. Both of these have their own unique set of benefits and drawbacks that you should consider before making a decision.
Below we have given you a quick insight into its advantages and disadvantages:
Granite is a very strong, durable, heat and scratch-resistant material. The best part is, it's also easy to maintain and clean. Granite marble for kitchens comes in a wide variety of colours and patterns, so you are sure to find something that meets your preferences. The main downside to granite is that it is a bit more expensive than other countertop materials.
Extensive range of colours and styles

Less maintenance required
Variation in composition for different slabs
Marble is another popular choice for countertops as it is very strong and long-lasting. This material is also heat-resistant and easy to clean but can be scratched more easily than granite. The material comes in a wide range of colours, but with most marble suppliers, you will find white and light shades. The main downside to marble is that it can stain easily if not sealed properly.
Susceptible to staining and scratches

Requires more maintenance
So, now the question is, which one should you choose? It really depends on your budget, style, and needs. If you are searching for something that is strong and durable, then granite would be a good choice. On the other hand, if you want something more elegant, then marble would be the ideal pick.
What to Look for in Granite for Kitchen Countertops?
Granite is a beautiful choice for kitchen countertops. Here are some of the things to keep in mind before getting in touch with local granite suppliers and choosing your material:
Overall design: As mentioned, granite comes in a wide range of colours and patterns. You will want to choose granite that compliments the rest of the room's aesthetic. Take some time to browse through the options before making a decision.

Exact pattern: Granite is a natural stone, so each piece is unique. This means that the colour and pattern you see in the sample may not be exactly what you get in your finished countertop. If you fall in love with a piece of granite, be sure to ask about getting that specific slab for your project.

Light colour: Light colours of granite can show smudges and fingerprints more easily than dark colours. If you are considering light-coloured granite, so always test it in an area that gets a lot of traffic to see how well it holds up.

Porosity: Some types of granite are more porous than others and can absorb stains more easily. You should ask about the porosity of the material you are considering before purchasing.

Cost: Granite is a relatively expensive material, so it's important to choose a granitestone supplier that offers high-quality pieces at competitive rates. Be sure to factor in the cost of installation when comparing prices.
Finally, consult with our professionals before making your final decision. As a granite and marble wholesale supplier, we can help you select the best granite for your needs and budget. By considering these tips, you can find the perfect countertop for your kitchen.
What Makes Us Unique?
At Still Stone, we have a wide range of marble and granite supply in Melbourne that can suit every need. We have over 250 colour patterns in granite marble in our store. To help you with the right design, depending on your requirements and existing décor, we showcase an extensive variety of materials.
Our experts will do the proper installation by taking the measurements of the layout and field fabrication. You will get clean-cut granite marble stones, which are cut and welded from naturally occurring coloured stones and slabs. This way, you can rest assured that the countertop accurately fits the area of your home. Moreover, we also use marble stone for flooring and tiling purposes too.
We believe in quality over quantity and thus you can trust us on providing high-grade granite marble for kitchens. All the materials that we use are carefully inspected and approved. Whether you want a bold design for your home or a conservative yet stylish one, we can find the perfect design for you. Its glaze and shine make it a must-have in residential as well as commercial homes.
So, if you want to improve the interior décor of your home, contact us for stylish and eye-catching stone designs. Call us on 0421 359 996 or email us at stillstone3169@hotmail.com to schedule an appointment.
FAQs
Granite is often more reasonably priced than marble. However, the cost of each material can vary depending on the type and quality.
It depends on your needs and preferences. Natural granite is more expensive but offers a beautiful, one-of-a-kind look that no artificial stone can match. On the other hand, artificial granite has become increasingly popular in recent years as it is more durable and cost-effective.
Granite can be used as a countertop material, flooring and wall tile, or even outdoors in landscaping projects.