Your Qualified Granite Marble Contractors in Melbourne
Do you think your kitchen looks dull and needs an upgrade? Then head over to Still Stone in Melbourne today! Still Stone is the perfect contractor when you need to make renovations to your kitchen. The best way to bring life into your kitchen is to transform the boring old vanity into a new granite marble countertop.
Granite marble is a granite that looks like a marble and is a much more cost-effective option compared to real marble. Since marble is very expensive due to its timelessness and sophistication, it's difficult to maintain as it is porous and can easily absorb stains. Maintaining the look of a marble countertop, especially in a kitchen, can be really difficult as it'd require a sealant before you can use it.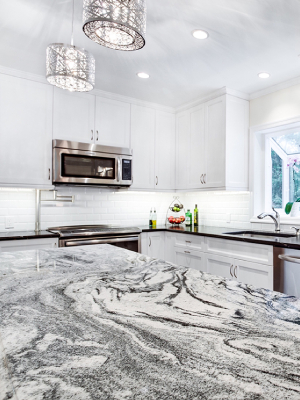 On the other hand, granite is a much better alternative to marble. It is easy to maintain and you'd just need soap and warm water to remove the stains on the countertop. Moreover, it's durable and stylish too. So, if you're planning to add elegance with a marble-style countertop, a granite marble countertop is the best option for you.
It's a great investment though it's still costlier compared to other types of countertops.So, when you choose a contractor to install it for you, choose the best contractor in Melbourne who has the skills and experience to install it. Our contractors fit the description perfectly and have worked with granite marble stone for a long time.
Working on Your Granite Marble Project to Renovate Your Home
We will properly install it in your home by taking the measurements of the layout and field fabrication. You'll get clean-cut granite marble stones, which are cut and welded from naturally occurring coloured stones and slabs,to accurately fit for the area of your home. Moreover, we also use marble stone for flooring and tiling purposes too.
We believe in quality over quantity. You can trust our team to use only high-quality granite marble for kitchen Melbourne that's carefully inspected and approved. Whether you want a bold design for your home or a conservative yet stylish one, we can find the perfect design for you. Its glaze and shine make it a must-have in residential as well as commercial homes.
Granite marble does not have just one design; it can be divided into various designs depending on the pattern and colour it takes. This differs due to the minerals in the stone. We have over 250 colour patterns in granite marble in Melbourne store. Our team of experts will help you choose the right design for you depending on your requirements and the décor of your home.
They are popularly used in a variety of places including homes, offices, and hotels and is an ideal choice for kitchen countertops, bathroom vanities, and bar tops.
Improve the interior décor of your home today with stylish and eye-catching stone designs. Call us on 03 9558 4466 to schedule an appointment with one of our experts in Melbourne.