RHF Quartz Stone in Melbourne
R.H.F Quartz Stone is a popular high-quality stone that is synthesized with quartz crystal of about 93 per cent and 7 per cent resin, along with a small amount of inorganic pigment. This pigment is well processed under vacuum and undergoes a heterogeneous material aggregation technology. It is hardened into specific thickness while exposed to high temperature, high pressure, and grinding techniques. Look no further for RHF stone Melbourne because we, Still Stone are the best choice for a superior quality stones here in Melbourne. Our price ranges are designed to impress you with its affordability, whatever your desire might be. Our RHF stones are of the highest quality and we offer a wide range of colours and hues to maximize customer satisfaction.
RHF Stone Features
Most of these benefits are due to the high percentage of quartz crystal content, which ensures its hard and compact structure. RHF stones are used in residential homes and commercial spaces such as kitchen benchtops, bathroom vanities, laundries benchtops, tabletops, window surrounds, and reception counters.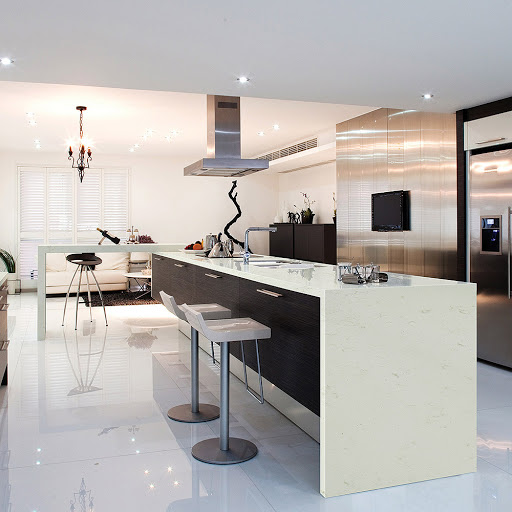 RHF Quartz Stone – Tiles and Blue Stones
Quartz is a material which is harder than granite and offers more durability. Quartz is not a porous material like granite, and hence it is easier to keep the countertops bacteria-free. Unlike granite, quartz has the look of stone while also allowing homeowners to customize the design. While granite offers many options in terms of appearance, you may have to search for the right piece that matches your colour scheme. With quartz, the selection process is much easier. Quartz stones need not be resealed as part of regular maintenance unlike granite, thus saving you money and effort in the long term.
Moreover, since quartz is engineered, it is more environmentally friendlycompared to granite if you use regionally manufactured stone and local fabricators. This cuts down on the distance the material needs to be transported. Still Stone brings to you the best quality RHF stone Melbourne tiles and Bluestones for all your requirements.
We Are Just a Call Away!
Whether you are planning to renovate your office or home, Still Stone is the best place you will ever choose. Give us a call at 0421 359 996 for all your RHF Stone needs and we will be thrilled to help you right away. Grab your no-obligation quote for the finest RHT stone today!