Dekton Stone Benchtops in Melbourne – A Great Choice
The kitchen is where you chat with your friends and family, spend quality time, and cook together. Your kitchen plays a key role in the day-to-day activities of the family and hence it should be both beautiful and functional. Your benchtop should give a style statement and reflect your personality as it is on view for all your guests. Thousands of households have opted for Dekton benchtops for their kitchen. Dekton stone benchtops are a great choice for any space, from indoor kitchens, bathrooms to outdoor BBQ areas. With the exclusive TSP technology, the benchtop reflects the metamorphic changes a stone goes through naturally. Dekton benchtops offer unparalleled aesthetic and functional properties, which make them the best choice in a modern kitchen. At Still Stone in Melbourne, we offer a wide range of textures and colours and help you find the perfect benchtop that adds to the aesthetics of your space.
The raw materials used in Dekton kitchen benchtops create a contemporary and sophisticated look for all cooking styles. The versatile character of Dekton benchtops helps maintain all the unique advantages of the material while designing benchtops for indoors and outdoors.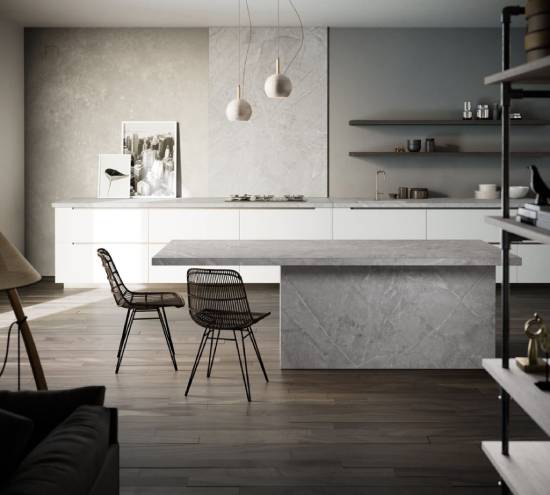 The surface of Dekton stone benchtops has high resistance to UV rays, which helps in maintaining the color and texture of the material in outdoor kitchens over time. With an outdoor Dekton kitchen benchtop, you can now enjoy parties or any outdoor event without losing the aesthetics and functionality of an indoor kitchen. Each Dekton benchtop has an individually applied texture, which makes each tone different from another. The textures range from natural matte to bright and extra-polished tones. Here are a few reasons why you should consider Dekton benchtops for your space.
Stain Resistant: Dekton has a non-porous and stain-resistant surface, which makes it ideal for the usage of coffee, lemon, wine, or any other daily products.
Heat Resistant: Dekton has resistance to high temperature which won't affect the properties or the aesthetics of the benchtop.
Scratch Resistant: Dekton benchtops have a high scratch resistance but we recommend you use a chopping board to protect household utensils.
10 years of Guaranteed Quality: Dekton kitchen benchtops come with a 0-year assured warranty.
Why Dekton for Kitchen Benchtops?
A lot of thought is put through while designing a new kitchen. Right from the colour palette and layouts, to countertops and splashbacks, every detail should be considered to ensure that the new kitchen space is not just for aesthetics, but it is functional as well. When it comes to choosing kitchen benchtops, Still Stone can help. We provide a wide variety of materials to suit the needs of your kitchen. With innovative features and unrivalled aesthetics, our Dekton stone benchtops have been the top choice for kitchens in Melbourne. The Dekton benchtop has a stone-like material made from a sophisticated blend of materials that are used to create porcelain, glass, and quartz surfaces. The advanced manufacturing process gives us a quick output wherein the process would take thousands of years to occur naturally.
Dekton kitchen benchtops will not break under pressure as they have resistance to extreme temperature changes like thawing, freezing, or fire and heat. The finish will remain clean and classy as it is difficult to scratch and chip due to its extreme impact-resistant feature, which is more than granite and quartz. These benchtops can be easily scrubbed and cleaned as they won't fade over time. It is the perfect addition to food or chemical space or any wet area as it won't stain due to its extremely dense material with zero water absorption. You can select from a wide range of benchtops to suit the décor and colour scheme of your home.
At Still Stone, Melbourne, we believe that your home should cater to your needs and reflect your choices in a comfortable and sophisticated manner. We offer a wide variety of textures and colours and would love to help you out in choosing the best benchtops for your space. Call us on (03) 9558 4466 to talk to our friendly team or write to us at stillstone3169@hotmail.com to learn more about our range of Dekton Benchtops or our Dekton benchtop cost.