Get #1 DektonBenchtop at Low Cost in Melbourne
The kitchen is where you chat with friends and family, spend quality time, and cook together. Your kitchen plays a key role in day-to-day activities and hence it should be both beautiful and functional. A benchtop is perfect to give a style statement and reflect your personality as it is on view for all your guests.
Thousands of households have opted for Dektonbenchtops for their kitchen for many reasons. Dekton stone benchtops are a great choice for any space, from indoor kitchens and bathrooms to outdoor BBQ areas. With the exclusive TSP technology, the benchtop reflects the metamorphic changes that a stone goes through naturally. Moreover, Dektonbenchtops offer unparalleled aesthetic and functional properties, which make them the best choice for modern kitchens.
At Still Stone, Melbourne, we offer a wide range of textures and colours and help you find the perfect Dekton stone benchtops that add to the beauty of your space.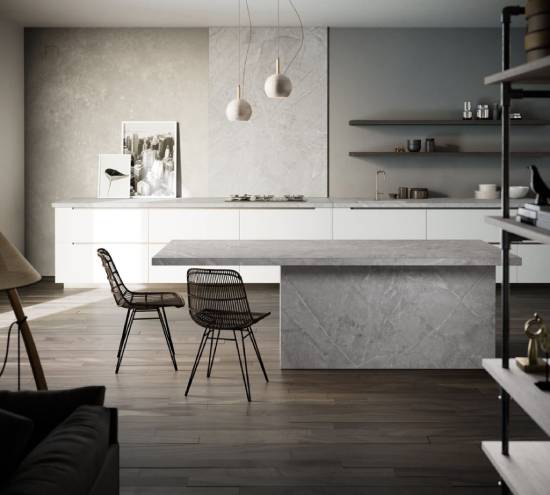 Dekton Countertops vs. Porcelain: Which is the Best for You?
Suppose you are considering getting a new countertop for your kitchen or bathroom. In that case, you may wonder about the difference between Dekton and porcelain since they are the most popular options. Both materials are very durable and highly resistant to scratches as well as stains. However, there are some key differences that you should be mindful of before making your final decision.
How do you know which one is right for your needs? Here's a quick insight for you:
Dekton countertops are made from a material called Ultraluxe, which is an innovative blend of porcelain, glass, and quartz. This makes Dekton extremely strong and durable, as well as heat and scratch-resistant. It also means that Dekton countertops are non-porous and won't absorb spills or stains.
On the other hand, porcelain is also known for being very strong and durable, as well as heat resistant. However, unlike Dekton, porcelain is porous, so it can absorb spills and stains if not sealed properly. Porcelain is also more susceptible to chipping and cracking than Dekton.
So, which one should you choose? Ultimately, it comes down to personal preference. Both countertops have their own set of pros and cons. If you are looking for a non-porous surface that is easy to clean and maintain, then Dekton is the better choice. However, if you prefer the look of natural stone or marble, then porcelain might be a better option for you.
Advantages of Using DektonStoneFor Your Kitchen Benchtops
The raw materials used in Dekton kitchen benchtops create a contemporary and sophisticated look for all kitchen styles. This is because of the versatile nature of Dektonbenchtops that helps maintain all the unique advantages of the material while designing benchtops for indoor and outdoor spaces. The surface of Dekton stone benchtops has high resistance to UV rays, which helps in protecting the colour and texture of the material in outdoor kitchens over time.
With an outdoor Dekton kitchen benchtop, you can now enjoy parties or any outdoor event without missing out on the aesthetics and functionality of an indoor kitchen. Each Dektonbenchtop has an individually applied texture, which makes each tone different from another. Also, its textures range from natural matte to bright and extra-polished tones.
There are many other perks of using a Dekton porcelain benchtop for your kitchen, including the following:
Aesthetics : Dekton has an elegant, modern look that is perfect for any home or office. It comes in a variety of colours and patterns, so you can find a match for your style.

Stain Resistant : This material has a non-porous and stain-resistant surface, which makes it ideal for the usage of coffee, lemon, wine, or any other daily products.

Heat Resistant : It has resistance to high temperatures which won't affect the properties or aesthetics of the benchtops.

Scratch Resistant : Dektonbenchtops have a high scratch resistance, but we recommend you use a chopping board to protect household utensils.

Guaranteed Quality : Most Dekton kitchen benchtops come with an assured warranty.

Strength and Durability : Dekton is made from a special blend of materials that makes it extremely strong and durable.

Easy Maintenance : You can maintain these benchtops very easily. With just a little bit of care, it will always look new again.

Cost-Effective : Dekton is a very cost-effective option for your countertop needs. It is comparable in price to other high-end materials but with all the added benefits.
Why Choose Still Stone?
Still Stone is one of the most reliable suppliers of Dekton countertops. We have expertise in crafting high-quality countertops, designed according to our client's needs and choices. Our team works tirelessly to create products that are not only stunningly looking but also extremely functional.
What else makes us the best in the industry? Here are a few reasons why you should choose us for Dekton stone benchtops in Melbourne:
Wide range of colours and styles to suit any taste

Durable and high-quality material that withstands years of heavy use

Experienced team to help you find the perfect product

Quick and easy installation process

Reasonable Dektonbenchtop cost