High-Quality Luxury Bathroom Vanity Units Supplier in Melbourne
A vanity in your bathroom doesn't just act as a space to store all your belongings, but it also gives the room an aesthetic appeal. It is an opulent touch to the area while also increasing its practicality. So, good quality bathroom vanity units can make a massive difference in the complete look and feel of your room.
Having a vanity that can accommodate all your toiletries eliminates the issue of a cluttered sink. It also allows you to transform the appearance of your bathroom to suit your preferences. When you need custom vanities for your kitchen or bathroom, get in touch with our skilled professionals at Still Stone in Melbourne! With experienced staff and superior quality materials, we can deliver a beautiful yet functional vanity for your renovation projects.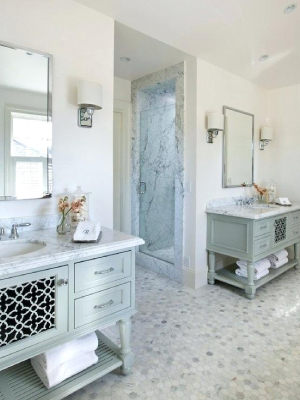 We source stones and tiles from reliable suppliers to bring you the best of the best. Our extensive collection can be used in a variety of ways, including as a countertop for your bathroom and kitchen vanity. Though these products are sourced from various places, we sell them at competitive prices at our store.
Buy Vanity That Fits Seamlessly Into Your Bathroom's Design
When choosing luxury bathroom vanity units, it is crucial to select one that fits flawlessly into the existing design of the space. There are many types and styles of vanities available on the market, so you need to take the time to browse through all of your options before making a final decision.
Below are a few of the most popular types of bathroom vanities:
Freestanding bathroom vanities: A freestanding bathroom vanity is not attached to any wall and can be placed anywhere in the bathroom. These are generally affordable options that are ideal if you need some storage space. One of its perks is that it can be easily moved around if you need to change the layout of your bathroom.

Wall-mounted bathroom vanities: These are great for small bathroom vanities that take up less space than a traditional vanity and can provide a sleek, modern look. They are also easy to clean since there is no base for dirt and dust to accumulate. You can find designer bathroom vanity units with different storage options that match the look of your home.

Single bathroom vanities: If you are looking for small bathroom vanity units, then this can be another ideal option for you. Generally, single vanities have one large cabinet with one or two smaller drawers, providing enough space for all of your bathroom essentials.

Double bathroom vanities: Double bathroom vanity units provide more storage space and allow two people to use the bathroom at the same time. They can also add value to your home and are perfect for a family bathroom or sharing an ensuite.
Things to Keep in Mind When Choosing Australian-Made Bathroom Vanity Units
Whether you want to remodel your house or just redesign the bathroom space, it is always important for you to be very particular about your vanity. As the central area for washing, brushing, styling, putting on makeup, keeping stuff and many other tasks, the bathroom vanity unit corner is always the focal point of the room.
So, if you are confused about what features you should consider while purchasing the ideal piece for you and your family, then we have mentioned a few tips below:
Size: The size of the unit you choose will depend on your bathroom's dimensions, the number of sinks you will need, and the amount of available space. If you have a small bathroom, you may want to opt for a smaller vanity unit. Conversely, if you have a large bathroom, you can choose a vanity without worrying about space. There are also corner bathroom vanity units available, which can be a great option if you have limited space.

Most vanities available in the market have a standard size, which can be negotiable to some extent:

Height: 30 – 34 inches
Width: 24 – 72 inches
Depth: 18 – 21 inches

Design: The design of your bathroom vanity should complement the style of the rest of the area. If you have a traditional home, then a classic wood vanity unit would be more appropriate than a modern glass one. On the other hand, if you have a contemporary style home, then a sleek and minimalist vanity would be more fitting. Also, they can be wall-mounted or floor-standing. So, there's a bathroom vanity unit to suit every taste and interior.

Material: Some popular materials for bathroom vanity units include wood, ceramic, stone, and metal. Each has its own unique look and feel and its own set of advantages and disadvantages, so it's essential to choose one that will fit with the bathroom's design.

Wooden bathroom vanity units: Wooden vanities are by far the most popular type on the market. They offer a warm and inviting look that can complement any bathroom décor. Wood is also a very durable material, so you can rest assured that your vanity will last for many years to come.
Metal bathroom vanity units: They are typically made from stainless steel, although other metals such as aluminium and copper are also sometimes used. Metal vanities are usually more expensive than wooden vanities, but they can be much more durable.
Glass bathroom vanity units: These pieces are less common than either wooden or metal vanities, but they can be very stylish. Glass vanities are usually made with tempered glass, which is stronger than regular ones and less likely to break.
End-to-End Small Bathroom Vanities Services for Your Home in Melbourne
When it comes to choosing a bathroom vanity, you can count on us to work with you from start to finish. From the time we design the perfect vanity till the finishing touches, our staff will take care of everything. In case you don't have any idea about what goes into the kitchen and bathroom renovation projects, our team will help you during the process, regarding material selection, field measures, and layout fabrication.
When you choose us for your bathroom vanity installation, you will get the following:
Experienced vanity installation contractors

Commitment towards the project
Safe and controlled work environment

Top-quality stones and tiles
Whether you have a commercial or a residential property, we are your go-to store when you need bathroom vanities or kitchen and bathroom renovations in Melbourne. You won't find any hidden costs as all the expenses will be discussed upfront before the execution of the project.
From marble vanities to granite ones, we have proficiency in working on various kinds of materials. Discuss with us what you would like the end result to be and leave the measurement, installation, and finish to us. Our team will meet and exceed your expectations by providing exceptional service at affordable rates.
When you are planning to upgrade the vanity in your bathroom or kitchen, contact one of our friendly representatives about your requirements. You can call us on 0421 359 996 or email us at stillstone3169@hotmail.com and book a consultation with us for a face-to-face meeting. Also, feel free to make your way to our showroom and check out the different designs and materials displayed.